Meet the Bel Red Staff for the 2017- 2018 School Year!
Owner

I grew up in Minsk, Belarus, and moved to the U.S. with my family when I was 8. Although I didn't have many Russian-speaking friends, I retained my Russian language by speaking with my family. My husband actually learned Russian in school, so he wouldn't feel left out at family functions. I didn't realize how important the Russian language was to me until I had my two children and wanted them to speak it. While my education and background are in finance and fashion, I am so happy to trade it in for spending time with kids and being part of their preschool experience.
I came up with the concept of Birch Tree Academy when I realized how important both academic and social development was for my own children. After I wasn't able to find that combination in any schools, I visited, I decided to create it. I really wanted a community of families that value education and a place where kids can feel welcome and make life-long friends. I was so excited when I realized other parents were looking for the same thing, and our preschool was born!
Although my main job is handling daily operations, I love getting to know all of the kids and playing with them during their outside breaks.
In my free time I like read, swim, take long walks with my kids and experiment with cooking.
Director, Bel Red

I have been in Early Childhood since 1999. I started in a childcare center in Everett and worked there for 12 years. I then worked at Bright Horizons for 3 years as a lead Pre-K teacher. I came to Birch Tree Academy in August 2015 and currently have my CDA in Early Childhood Education. I enjoy working with children, and watching them explore and grow through their world.
I spend my free time with my daughter and husband. We love to do outdoor activities such as hiking, soccer, camping, and ATV riding. I love finding new books to read while relaxing at home. We have two dogs, a Yorkie and our new addition to the family, Chloe, is a mini Australian Sheperd!
Office Manager, Bel Red

I was born and raised in Uzbekistan, Tashkent city. I graduated from University in Economics in 2000 and moved to Korea and worked at a building company as their office manager for 2 years. After that I moved back to Uzbekistan and I began working as an office manager for a Bulgarian company, VENO-Asia . In 2011, I moved to Seattle with my family.
I have a husband and 2 boys that really enjoy playing soccer and are a part of the Chinook Swim Team. In my free time, I really enjoy fire yoga, hiking, and spend time with my family traveling.
Hummingbirds Class
Co-Teacher

I was born in Turkmenistan and moved to Seattle in 2018. I am married and have 2 boys (4 and 2 years old). I spend my free time with my family. We love going to the museum, library, and walking in the park.
Most of all I like to work with children 1-2 years of age because I like to watch them grow and learn new skills every day. My main goal is to teach all the children everything children need to know move on to the next stage in life. I will speak Russian with the children, conduct lessons, develop fine/gross motor skills, and imagination.
Hummingbirds Class
Co-Teacher
Hello! I'm originally from San Diego California, I moved up here about five years ago with my son and I'm so in love with all the nature Washington offers and will explore anywhere my son and I can escape to for an awesome adventure!
I have a lot of experience as a fun loving mother but also as a toddler lead teacher and nannying for many years and I've worked with all ages of children, before starting my career; when I was about seven I'd find neighbors to care for or stuffed animals and play doctor or daycare but I've moved on from that and now genuinely have enjoyed my time at Birch Tree Academy as a Sparrows English teacher. I've been here for 7 months and I'm the happiest I've ever been and feel like true family here. I'm also very grateful for the relationships with the children and families; I know those friendships and the trust will continue to grow as I plan to stay and make roots.

My focus when I teach or influence is building each child's self-esteem in very positive ways that makes them feel like they can be " doers" and giving them the structure and especially affection every child and adult needs to feel secure. Always building social skills with them or starting those very early beginning steps of communicating with peers by signing or learning first words that is all very rewarding for me to experience this growth with them. I'm so looking forward to being in the Hummingbirds and getting to know even more families and littles.
Canaries Class
Assistant Teacher
I am a born and bred Washingtonian and have lived in Seattle for the last 8 years. I am a Central Washington University alumnus, where I studied music theater in a competitive BFA program. Following school, I was lucky to complete an internship at Disney World where I worked as a safari driver and guide in the Animal Kingdom. This experience especially helped me discover my calling to work around children. I love watching them figure out how things work and seeing their sense of awe at their discoveries. Having a background in arts, I tend to use music and visual aids while teaching to help explain new concepts. Music is a lifelong passion of mine and helps me to build connections and relationships with kids without using a lot of language.
In my free time you will find me walking my dog, Lola, at the beach, reading a new fantasy series or even trying my hand at an ambitious new recipe.
Canaries
Lead Teacher
I was born in St. Petersburg, Russia and moved to Seattle in March 2017. In Russia I worked at children's center with different age of groups, supervised master classes and birthdays parties.
I am excited to work with the youngest children at Birch Tree Academy, and help every child adapt to child care and. I take great pleasure of being in the classroom with children and enjoy seeing the difference that I make in their lives each day. My favorite part is getting smile and laughter from kids!
Chickadees
Co-Teacher
I was born and raised in Seattle, Washington. The second oldest of 6 kids, I have spent much of my life helping her parents raise her younger siblings. I graduated from Sammamish High School in 2009 and am currently pursuing a bachelor's degree in social work. I have always held a special place in my heart for the youth in our communities. With a degree in Social Work I hope to influence real change in the lives of children who are involved in foster care and adoption.I am currently the co-director of a nonprofit organization known as Packs for Cold backs. This organization works directly with people who have been displaced from their homes and assists in providing them with the services they need to stabilize their lives and begin to find happiness again.
I started teaching preschool aged children in 2017 and has loved every minute of it. Through the good times and the bad, I find inner joy by observing the growth of a little one's mind as they gain knew knowledge. I am excited to show kids how fun learning can truly be and hope that the skills they develop now will help them as they grow and move onto Kindergarten.
Chickadees Class
Co-Teacher
I was born and raised in Belarus, Minsk. I graduated from the Academy of Physical Culture and Sports in 1996. There I earned my Certification for a Physical Education teacher and Methodology of Medical Physical Culture. That same year, I passed the exam and received a diploma from the British Association Teachers of Dance. I have been teaching children for over 15 years. I worked as a PE and ballroom teacher for students 3 years and older.
My husband and I were four time champions of Ballroom dancing in Belarus. Twice we have represented Belarus at the World Cup! We were also winners of the International Competition. We moved here from Minsk in 2014. I love to travel, and I have visited more than 20 countries. My favorite city is St. Petersburg. I have a daughter. We love to play volleyball together, she dreams of becoming a professional player one day.
I enjoy working with children and I look forward to being the Lead Teacher for the two's class. I also love the opportunity to teach the older children how to dance!
Sparrows Class
Co-Teacher
I graduated with my bachelors from SUNY New Paltz. My focus at school was childhood language development. I have been in early childhood education since 2013. Two of those years were spent working with children on the autism spectrum. During this time I learned American Sign Language and still use it to communicate with children who are not ready to start speaking.
I was born in Ohio and have lived in Iowa, Illinois, Virginia, Upstate New York, and Long Island New York. Living in all of these different places has given me a wonderful chance to experience the diversity of different cultures. I look forward to working at Birch Tree, learning about the Russian culture and getting to know our kiddos and families!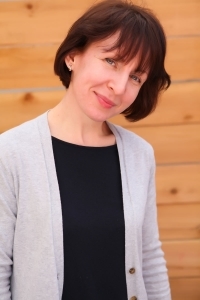 Sparrows Class
Co-Teacher
I was born and raised in Minsk, Belarus. I have a Bachelor's degree in Early Childhood Education and Psychology. I also have over 10 years experience in teaching.
My family and I moved to the United States five years ago. I have since worked as a Russian writing and reading tutor, and a part-time preschool teacher. In my class I specialize in math and language development.
When I'm not teaching, I enjoy reading, kayaking, cooking and knitting. I live in Sammamish with my husband and son.
Blue Jays Class
Co-Teacher
I was born in Siberia, Russia and moved to Seattle 4 years ago. I have been working with children for 8 years and have loved every day. When I am around kids I always learning something new and interesting. There is an unending feeling of happiness, warmth and love. When I teach them something new, I am amazed at how they listen with such genuine interest and attention.
I enjoy spending time with my husband and kids. We love the outdoors and spend out weekends hiking and camping.
Blue Jays Class
Co-Teacher
I have been teaching early childhood for 6 years! I have worked in Montessori's, academies, and schools.
I graduated Bellevue College and Central Washington University with an AA and BFA in Theatre Performance. I was once the winner of the Children's Theatre award! Needless to say, I love being theatrical and creative with my students.
When I am not making all the kids laugh, I can be found playing with my two Pitbull's, seeing a play, or singing karaoke!